Macro-precise hand-pushing
Steady Module easily eliminates shaky hands (human error) and enables silky smooth camera motion even at ultra low speeds.
Works great even with heavy camera loads
Unlike regular slide stabilizing solutions, aka flywheels (inertia modules), Steady Module works perfectly even with heavy camera loads.
No batteries or chargers needed!
Steady module will enable you to nail that perfect shot even when you are at a very remote location. No batteries, no chargers required; completely mechanical solution. Uses fluid dynamics to dampen the movement.
Tension adjustment
Simply adjust tension with the wheel to achieve desired dampening. Steady Module is designed to smooth out low to medium slide speeds. At high speeds, since there will already be enough momentum for a smooth slide, you don't need to use Steady Module.
Silky smooth incline shots
Steady Module beautifully handles inclines even when your SliderPLUS is vertical! Just don't take your hands off of the system while descending. This will put all the weight on Steady Module, which is not recommended for the safety of your gear.
Reviews
Find and read inside stories from users like you!
Customer Reviews
Write a Review
Ask a Question
Excelente
Funciona perfectamente. El movimiento es ahora mucho mas fluido
忍大
06/14/2021
忍 大.

Japan
使い勝手が良いです。
Slide Module v3よりカジュアルに使いたい場合便利だとな感じます。 Slide Module v3よりはスムーズにはいきませんが、シーンによっては十分な効果を得られます。
06/07/2021
Steve M.

United States
Handy Battery-Less control
Works as expected, battling a tiny 'bump" when the two halves cross each other. Skips occasionally
05/25/2021
Carlos L.

United States
Great alternative to motorized
It is really adjustable. You can absolutely dial in the proper tension as you need without any issues. It allows for very controlled hand held movements.
04/30/2021
Jaakko N.

Finland
Great option for Slide Module 3
Smooth movement and easy to use without electricity. Great value for you money!
HR
04/01/2021
Heulwyn R.

United Kingdom
Does what it says on the tin!
Great piece of equipment when you want to motorise your slider.
02/27/2021
Edward R.

United States
Bump as slider travels over middle bracket
I really want to love this slider. It's compact, easy to set up, and appears durable. But every time I slide the camera over the middle bracket (the corresponding bracket that attaches to a tripod), it bumps. The friction is unmistakable and always present. No matter what I do, I can't avoid it. As I said, I want to love this slider. But for the price, I expect a smooth frictionless motion. I cannot recommend this product.
01/13/2021
Kinya H.

France
悪くない
フライホイールには及ばないが、ゆっくりした動きはやりやすくなります。
01/06/2021
Christoffer A.

Denmark
bump on rubberbelt with steady module
Work fine, but I think its making a bump on the rubberbelt
KS
12/27/2020
Katarzyna S.

Poland
Usefull
Perfect solution when speedy setup is needed.
11/23/2020
David V.

France
Very efficient
Very nice product, easy to add and remove from the slider, great build quality. I wanted to purchase it to have 100% chance of doing a perfect, smoothy slide shot every time. As far as I used it, no problem at all. The delivery was one weeks later than expected though (12 days), that's why I give it a 4, not a 5 stars.
11/20/2020
Sam R.

United Kingdom
Steady module is a must!
After using the slider pro for a while without the module i decied to give it a try. This unit will transform your movements, it essentially adds a clutch to the slider which will now produce unbeatable slides! Very high quality and a good but slightly larger design then i would have hoped. I understand this is necessary though so no complaints from me! Also a nod to edlekrones customer service. outstanding and unbeatable as always!
11/06/2020
Christian d.

United States
Excellent add-on
I own the complete edelkrone motion control system for my sliders, but sometimes I just want a stripped down slider for quick movements. This really makes that possible. It really does help stabilize manual slides. And it's adjustment is very effective. Great price too. This is a must-have for sliderPlus.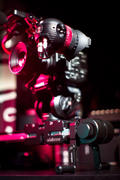 10/15/2020
Benjamin T.

United States
A Must piece!
This piece is really a must when using the slider without the electronics. It's too bad it doesn't just come included with the slider for the price, but its a solid piece for those looking for a decent slide without all the other pricey gadgets you can attach.
09/30/2020
Shad C.

United States
Incredible
First of all this product is absolutely outstanding. Even more important I wish every company treated me this well. The customer service and the care this company approaches its customers with is absolutely world-class. Thank you so much elacron you really helped me at crucial junctures in my efforts.
09/07/2020
Alex E.

United States
Great initial experience, poor follow through
I have loved following edelkrone since they started- even though it's a premium product, once I was able to afford/expense some of the products, I've tried them. The slider itself was very smooth out of the box, I would recommend using it without a tripod to avoid the rainbow effect. The head (where the camera sits) has a natural divot on the wheels, which means it's not totally gliding, you will inevitably are a bump in your footage. I never let the camera rest on the slider, Habit from previous cheaper products That don't last. I'll have to try my luck somewhere else, I am returning the slider and might try another product before going to a different company.
07/15/2020
Erik S.

United States
Suuuuuuper awesome accessory
This is a must have for the slider. The variable tension knob can make your camera go from silky smooth medium speed (as fast as I would ever need) to super slow and smooth. There is no way I could ever get speeds this consistent by hand. The new version is smoother than first version (I have used both). Edelkrone builds top quality machines and has TOP NOTCH customer service. Cannot ask for more.
05/13/2020
Atif N.

United States
Steady as she goes!
If you get the slide module v2 then this is not needed. Wasn't really clear on the site. Will still use it though for manual slides!
05/10/2020
Scott B.

United States
Great accessory
Works well to smooth out ultra slow slides! I needed to do some slow, macro slides and this helped smooth out the movement.
02/28/2020
Ioannis F.

Greece
kind of disappointing it skips
kind of disappointing it skips and doesn't work properly takes a lot of fiddling